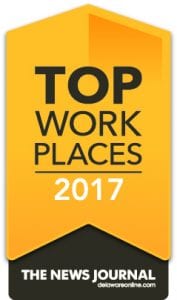 Gunnip LLP is a growing CPA firm located in Wilmington, Delaware with staff of over 50 and clients in a wide variety of industries. We provide services that help address our clients' needs while delivering the kind of business advice that makes us one of the most sought after firms in the local market.
Being part of our team means you'll be working with an accomplished group that's keenly focused on sophisticated, privately held businesses in industries such as private equity, construction, technology (hardware/software), manufacturing, wholesale, as well as non-profits. We look for people who value the career success and recognition that comes with hard work, dedication, and a tactful approach to public accounting.
What we're looking for:
We're looking for passionate, motivated, self-starting individuals who have strong aptitude to learn new skills and who enjoy working in a team based environment to join our Firm. The candidate will have the opportunity to work closely with clients and management. Duties include performing audits and reviews of all business entity types, including federal and state tax preparation. Perform various projects and assist with tax preparation for individuals as well.
Preferred Qualifications:
Bachelor degree in accounting from an accredited college/university
Delaware CPA permit to practice (or the ability to attain your Delaware CPA permit)
Three to six years of audit and accounting experience working with a CPA firm
Ability to work independently
Good problem solving, critical thinking and written communication skills
Strong software skills including experience with ProSystems Engagement and Tax, Thomson Reuters Checkpoint, Microsoft Office and/or QuickBooks (preferred but not required)
Salary commensurate with experience and excellent benefit package including Paid Time Off (PTO), medical, dental, 401k match and profit sharing, overtime or comp time
For immediate consideration, please email your resume to: careers@gunnip.com.
Gunnip & Company LLP is an equal opportunity employer.