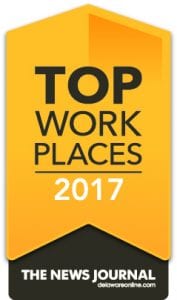 Gunnip is a growing CPA firm located in Wilmington, Delaware with 60 employees and clients in a wide variety of industries.  We are currently seeking tax preparers and reviewers to join our team.  These are full-time seasonal positions from mid-February 2019 through April15, 2019.  Additional part-time work is a possibility throughout the rest of the year.  We offer a comfortable work environment and competitive pay.
Since 2008, our employees have consistently ranked us in the Top 10 small workplaces in Delaware.  Since 2011, we have been the highest ranking CPA firm on the list.  Our staff specifically names our exceptional benefits package, high appreciation level and low-stress, flexible environment the main reasons they stay.
Full-time hours January 15 – April 15 (8am – 5pm). Off-season hours 9am – 3pm
(or 10am – 2pm). General receptionist duties include answering telephones and greeting clients. Administrative duties include scheduling of conference rooms, bulk mailings, maintaining client files, scanning of tax returns during tax season, shared admin responsibilities and other duties as assigned. Pleasant personality and willingness to tackle additional duties a must. Multi-tasking individual with Microsoft Office experience.
Responsibilities:
Processing/assembly of tax returns
Processing Form 1099's, payroll returns, other miscellaneous forms
Efiling of returns and extensions
Assistance with processing financial statements
Processing of tax notice responses
Maintenance of new and existing client files
Shared admin duties
Additional related duties and projects as assigned
Requirements:
Accounting or Law Firm Experience
Tax Return assembly a plus
Attention to detail a must
Strong organizational/time management skills
Overtime mandatory during busy season
Computer Software:
Microsoft Outlook, Word and Excel a must
ProSystems Tax, Document and Engagement a plus
For immediate consideration, please email your resume to: careers@gunnip.com.
Gunnip & Company LLP is an equal opportunity employer.