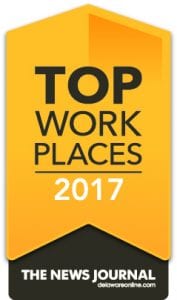 Gunnip LLP is a growing CPA firm located in Wilmington, Delaware with staff of over 50 and clients in a wide variety of industries. We provide services that help address our clients' needs while delivering the kind of business advice that makes us one of the most sought after firms in the local market.
Being part of our team means you'll be working with an accomplished group that's keenly focused on sophisticated, privately held businesses in industries such as private equity, construction, technology (hardware/software), manufacturing, wholesale, as well as non-profits. We look for people who value the career success and recognition that comes with hard work, dedication, and a tactful approach to public accounting.
What we're looking for:
We're looking for smart, motivated individuals who have strong aptitude to lead and who like working in a high-performing team based environment. Because our audit practice works with privately held businesses, you'll have the opportunity to help business owners make significant operational changes that really add value to their businesses. This role is best suited for a career minded professional; someone who's not looking for just a job – someone who wants to constantly learn and grow with us.
Responsibilities:
Work closely with clients, managers, and partners to develop audit plans, identify risks, execute fieldwork, and generate audit reports for a variety of clients from emerging businesses to well established middle market companies.
Strengthen client relationships and work closely with owners and executives to provide valuable advice and insights to make a meaningful impact.
Help direct and coach junior audit professionals working on client projects. Take a vested interest in their success.
Handle all phases of an engagement and resolving any accounting issues that arise during those engagements.
Participate in and contribute to marketing and business activities to build your personal brand in the marketplace.
Qualifications:
Three to seven years of audit experience in an accounting firm
Bachelor's degree in accounting from an accredited college/university
CPA preferred, or parts passed with plan for completion.
Fundamental understanding of GAAP and audit procedures
Solid analytical, problem solving, and research skills
Excellent verbal and written communications skills
Highly competitive salary, strong benefits package (PTO, medical, dental, 401K and profit sharing).
For immediate consideration, please email your resume to: careers@gunnip.com.
Gunnip & Company LLP is an equal opportunity employer.