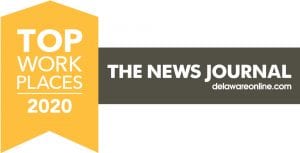 Gunnip & Company CPAs is seeking several professionals to join our team to assist with matters pertaining to a diverse group of individual and business clients. Our staff specifically names our exceptional benefits package, high appreciation level and low‐stress, flexible environment the main reasons they stay.
Gunnip is a growing CPA firm located in Wilmington, DE with 40 employees and clients in a wide variety of industries. We provide highly personalized and comprehensive assurance, tax and business consulting services to clients throughout the Mid‐Atlantic region. Our team of professionals works with clients in industries such as manufacturing, wholesale, professional services, commercial development, contractors, nonprofit organizations and state and local government. We look for people who are seeking a career in public accounting.
STAFF ACCOUNTANT: We're looking for smart, motivated individuals who have strong aptitude to learn new skills and who enjoy working in a team based environment. The candidate will have the opportunity to work closely with clients and management. Duties include performing audits and reviews of all business entity types, including federal and state audits. Perform various research and assist with tax preparation for individuals and businesses as needed.
Preferred Qualifications:
Bachelor degree in accounting from an accredited college/university
Delaware CPA permit to practice (or the ability to attain your Delaware CPA permit)
Entry‐level to three years of audit and accounting experience working with a CPA firm
Good problem solving, critical thinking and written communication skills
Strong software skills (experience with CCH ProSystems and/or QuickBooks a plus)
Salary commensurate with experience and excellent benefit package including Paid Time Off (PTO), medical, dental, 401k match and profit sharing, overtime or comp time.
For immediate consideration, please email your resume to: careers@gunnip.com.
Gunnip & Company LLP is an equal opportunity employer.