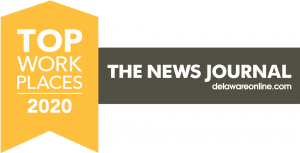 Gunnip & Company CPAs, a leading accounting firm in Wilmington, DE, is seeking professionals to join
our team to assist with matters pertaining to a diverse group of individual and business clients located
throughout the Mid‐Atlantic region. Our team of professionals works with clients in industries such as
manufacturing, wholesale, professional services, commercial development, contractors, nonprofit
organizations and state and local government.
Since 2008, our employees have consistently ranked us in the Top 10 small workplaces in Delaware.
Since 2011, we have been one of the highest-ranking CPA firms on the list. Our staff specifically names
our exceptional benefits package, high appreciation level and low‐stress, flexible environment the main
reasons they stay.
Responsibilities:
Review of individual, partnerships, S Corporation, C Corporation, and fiduciary tax returns
Analyze estate and trust documents.
Work closely with client, attorney and related professionals to assure deadlines are met.
Perform tax research with view for compliance and alternatives to satisfy client's objectives.
Client management and participation in marketing/business development.
Review and supervise tax work of other staff.
Additional related duties and projects as assigned.
Requirements:
Bachelor's degree in Accounting from an accredited college/university
Delaware CPA license or Enrolled Agent certificate.
5+ years of recent public accounting experience or similar experience.
Experience with preparation and/or review of high‐net‐worth individual, partnership, corporate,
estate, trust and gift returns.
Excellent verbal and written communication skills.
Able to work independently on assigned tasks and complete assignments within time
constraints and deadlines.
Able to accept direction on given assignments.
Dedicated to superior client service.
Experience with ProSystem fx Tax, ProSystem fx Engagement, ProSystem fx Document and/or
QuickBooks a plus.
Salary:
commensurate with experience and excellent benefit package
For immediate consideration, please email your resume to: careers@gunnip.com.
For more information, visit our site at www.gunnip.com.
Gunnip & Company LLP is an equal opportunity employer. Benefits include paid time off,
holidays, medical, dental, life and disability insurances, 401k / profit sharing plan.
To apply, please send resume and salary requirements to careers@gunnip.com