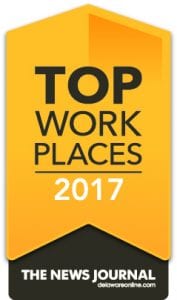 Gunnip is a growing CPA firm located in Wilmington, Delaware with 60 employees and clients in a wide variety of industries.  We are currently seeking tax preparers and reviewers to join our team.  These are full-time positions from mid-February 2019 through April15, 2019.  Additional part-time work is a possibility throughout the rest of the year.  We offer a comfortable work environment and competitive pay.
Since 2008, our employees have consistently ranked us in the Top 10 small workplaces in Delaware.  Since 2011, we have been the highest ranking CPA firm on the list.  Our staff specifically names our exceptional benefits package, high appreciation level and low-stress, flexible environment the main reasons they stay.
Responsibilities:
Review of individual, partnership, and corporate federal and multi-state tax returns
Identify outstanding issues and communicate with client to gather necessary information to complete tax returns
Perform tax research and tax planning projects
Identify and resolve client accounting issues
Communicate with federal and state taxing authorities to resolve tax notices
Train and monitor staff and senior accountants and assess performance
Additional related duties and projects as assigned
Requirements:
Bachelor's degree in Accounting from an accredited college/university
5+ years of recent public accounting experience preparing and reviewing tax returns
Strong verbal and written communication skills
Delaware CPA permit to practice or EA preferred
Able to work independently and within a team on assigned tasks and complete assignments within time constraints and deadlines
Able to accept direction on given assignments
Detail oriented and organized
Experience with ProSystem fx Tax, ProSystem fx Engagement and ProSystem fx Document is preferred; however, training will be provided if needed
Quickbooks experience preferred
For immediate consideration, please email your resume to: careers@gunnip.com.
Gunnip & Company LLP is an equal opportunity employer.